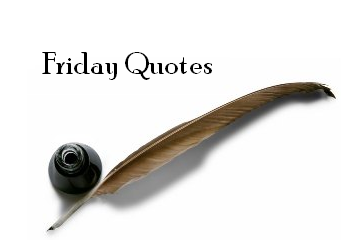 I have started this meme, Friday Quotes, for the simple fact that I love quotes. I have always been on the lookout for inspirations and motivations. Quotes is a way to remind me that life is still good despite the drawbacks. And well, I simple love reading new ones and the blogger's interpretation of it.
Anyway, as the name suggests, Friday Quotes is a Friday meme. All you have to do is this: post one of your favorite quotes on a Friday. Please use the banner found here. Then, come back here to write down your name and URL of your entry. Friday Quotes is usually up between 1am to 3am on Fridays. No rush. You can post your entry anytime on a Friday, or even on a Saturday if you forgot (like I do sometimes!). That's it!
Come join us!
If you have any questions, you can leave a comment here and I will get back to you as soon as I can.